With the upcoming holidays and the official takeover of a managed care organization, many children in foster care will face some difficulties this winter, but residents are showing their support online.
According to an article by Dr. John N. DeGarmo, Ed.D. for Foster Focus, a magazine devoted to covering the foster care, the holidays can be a season especially difficult for foster children when it comes to settling in to a new home and environment.
With the upcoming holidays such as Chanukah/Hanukkah, Christmas, Kwanzaa and New Years, many children in the system may feel guilt associated with enjoying the festivities without their birth parents.
That means that this issue as the potential to affect the nearly 7,000 children currently in West Virginia's foster care system.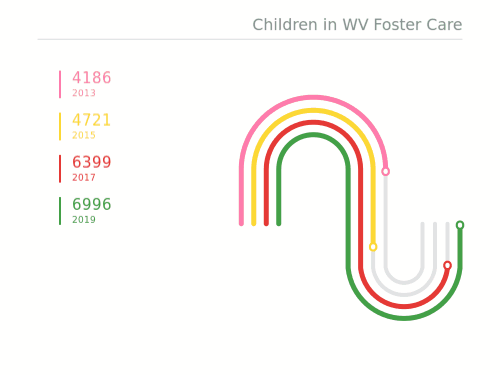 One organization, Boxes of Purpose, is working to provide foster children in the state with fun Christmas gifts to open. Many residents on social media have been vocal about this program and others similar.
Also on the horizon for Jan. 01, is the MCO takeover. Earlier this month, Aetna Better Health was officially chosen by the WV DHHR as the managed care organization that will take over management of the foster care system.
Basically, this means is that rather than the system being run by the state government, it will now be in the hands of a private company. 
A caseworker from the DHHR will still be the primary point of contact for families in the system–the private provider will only serve as an additional resource for them.
Over the last couple of months, many residents have had mixed feelings about this new shift.
However, there is no doubt that the DHHR has struggled to meet the needs of the foster children and families within the state. Just this fall, they got handed a lawsuit claiming that they did not have the proper amount of staff to help the number of children in their care.
One quote from an article by Brittany Patterson from WV Public Broadcasting really exemplifies how tight for resources the state is:
The limited number of DHHR facilities in the state could also make it difficult for some families living in more rural portions of the state to access.
In the map above you can see (in red) the DHHR outlets in the state of West Virginia. Three counties, indicated as a yellow house, located in Logan County, Parkersburg and Woodrow County, have been routed to various facilities to show the amount of time some families have to travel to get access to resources.
With thousands of our residents being greatly affected in the coming weeks, its important to continue to utilize online conversation to better help those who need it within our state.